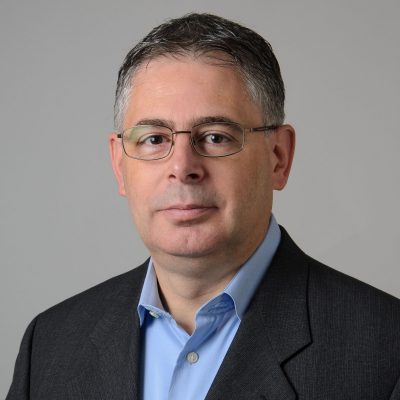 Department Head & Professor of Virology and Vaccinology
Department of Pathobiology and Veterinary Science
University of Connecticut
61 N. Eagleville Rd Unit 3089
Storrs, CT 06269-3089
Email:  paulo.verardi @ uconn.edu
Phone:  (860) 486-8098
Education
PhD, Comparative Pathology (Molecular Virology), University of California, Davis, USA
BS, Biological Sciences, Federal University of Rio Grande do Sul, Porto Alegre, Brazil
Major Research Interests
Vaccine development (human and animal diseases).
Enhanced safety and efficacy of recombinant viral vectors (such as vaccinia virus).
Biodefense, zoonotic, and emerging infectious diseases, including vaccines, diagnostics, and therapeutics.
Vector-borne diseases (mosquito- and tick-borne diseases).
Viral immunology, pathogenesis, and immunomodulation.
Oncolytic viral therapy and gene therapy.
Molecular virology and synthetic biology.
One Health.
Courses Taught
PATH 1000, Biomedical Issues in Pathobiology (guest lecturer)
PATH 1201, Exploring Careers in Pathobiology (co-taught)
PATH 3700, Emerging Infectious Diseases (guest lecturer)
PATH 5202, Viral Pathogenesis (team-taught)
PATH 5401, Immunobiology (solo)
PATH 5632, Vaccines: Mechanisms of Immune Protection (guest lecturer)
MCB 3246/5240, Virology (guest lecturer)
Biography
Dr. Verardi is currently Department Head and Associate Professor of Virology and Vaccinology in the Department of Pathobiology at the University of Connecticut (UConn), and an investigator at the Center of Excellence for Vaccine Research (CEVR) at UConn. He received a BS in Biology from the Federal University of Rio Grande do Sul in Brazil, and earned a PhD in Comparative Pathology at the University of California, Davis. He joined UConn as an Assistant Professor in 2008.

Dr. Verardi is a member of the American Society for Virology (ASV), the American Society for Microbiology (ASM), the American Association of Immunologists (AAI), and the American Society of Gene & Cell Therapy (ASGCT). In 2013 he received the ASM Outstanding Service Award to the Committee on Global Engagement. He serves as a grant reviewer for the National Institutes of Health (NIH) since 2005.

Dr. Verardi has a broad background in molecular biology, virology, and immunology, with an interest in vaccine and immuno-therapeutic vector development. He has worked on vaccinia virus immunomodulating genes, cytokines as attenuating and immunoenhancing agents, the development of a vaccinia virus-based vaccine for rinderpest, safer and more efficacious vaccine vectors for smallpox and AIDS, vaccines and design of safer and diagnostics for Rift Valley fever, foot-and-mouth disease, and porcine reproductive and respiratory syndrome. More recently he has worked on the development of vaccine platforms for rapid development and deployment of vaccines for emerging viruses and re-emerging threats such as Zika virus, SARS-CoV-2, and a number of other mosquito- and tick-borne agents such as Powassan virus.